Busidays
Working towards a circular economy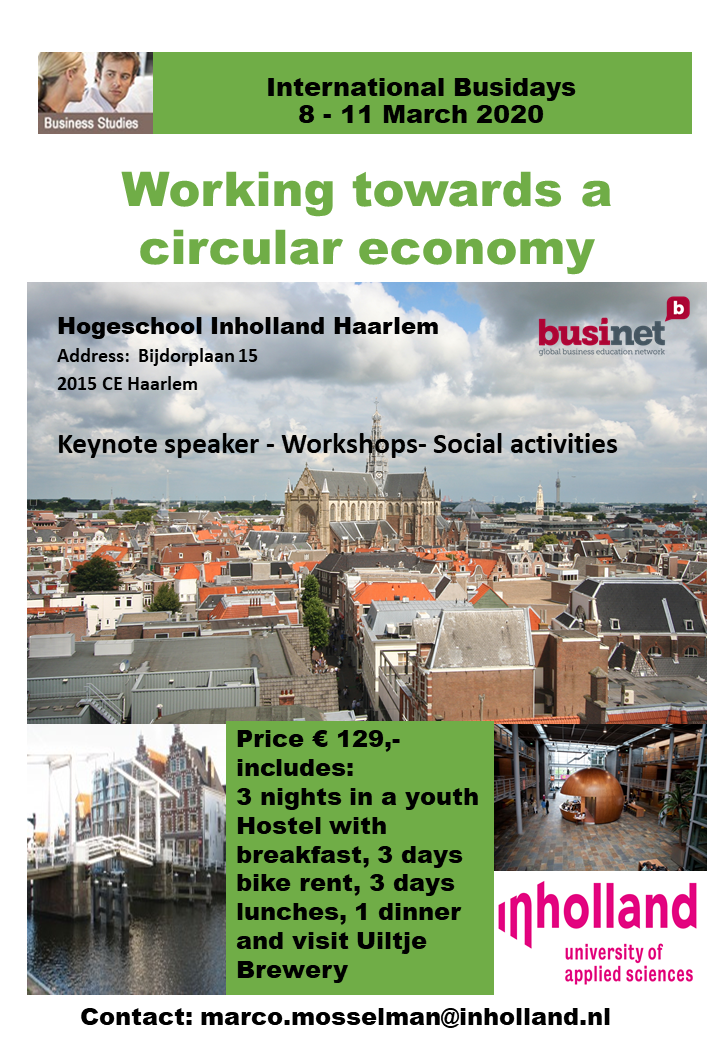 International Busidays
Haarlem 2020
"Working towards a circular economy"
8 - 11 March 2020 Inholland Haarlem
Venue: Inholland University of Applied Sciences, Haarlem
Address: Bijdorplaan 15, 2015 CE Haarlem
Sunday 8 March
Before 17.00 Arrival at Stayokay Haarlem
Jan Gijzenpad 3, 2024 CL Haarlem
(Rooms are for 4 to 6 people)
18.00 Reception of youth hostel and global aperitif
Global aperitif: Students are asked to bring delicacies from their region/country in order to share with fellow students.
Site youth hostel: https://www.stayokay.com/en/hostel/haarlem
Don't forget to bring your laptop the following days.
Monday 9 March
09:15 – 09:30 – Marco Mosselman, welcome & introduction in I0-23 (Big boardroom)
09:30 – 10:15 – opening by guest speaker
10:30 – 11:30 – Presentations by the attending students (grouped per university)
• Present your country, home institution and yourselves in a 3 minutes movie
• Present the poster (1 PPT slide, multiple images) of circular economy at work in your country.
11:30 – 13:00 – Don Ropes, presenting the case about Circular economy + individual brainstorm (with laptop) + making of the mixed teams
13:00 – 14:00 – Lunch
14:00 – 16:00 – Brainstorm sessions and first pitch
16:00 – 18.00 – Cycling tour and visit to: Uiltje Brewery & Taproom (Address: Bingerweg 25, 2031 AZ Haarlem)
https://www.uiltjecraftbeer.com/
House Rules for visit Brewery:
- Please be aware that we cannot take under 18's on the tour
- Please wear sensible shoes (e.g. no flip flops, sandals or heels)
Tuesday 10 March
10.00 - 12.00 Finishing your case + preparing your presentation in room I0-31 and I0-29
12.00 - 13.00 lunch
13.00 - 16.30 Finishing your case + preparing your presentation in I0-23 (Big Boardroom)
17.30 Dinner at Such
Wednesday 11 March
09:30 – 11:30 – Presenting your solutions in I0-23 (Big Boardroom)
11:30 – 12:00 – Announcement of the results & issue of the certificates
12:00 – 13:00 – Lunch and farewell
Written by: Marco Mosselman Published on: 10/02/2019